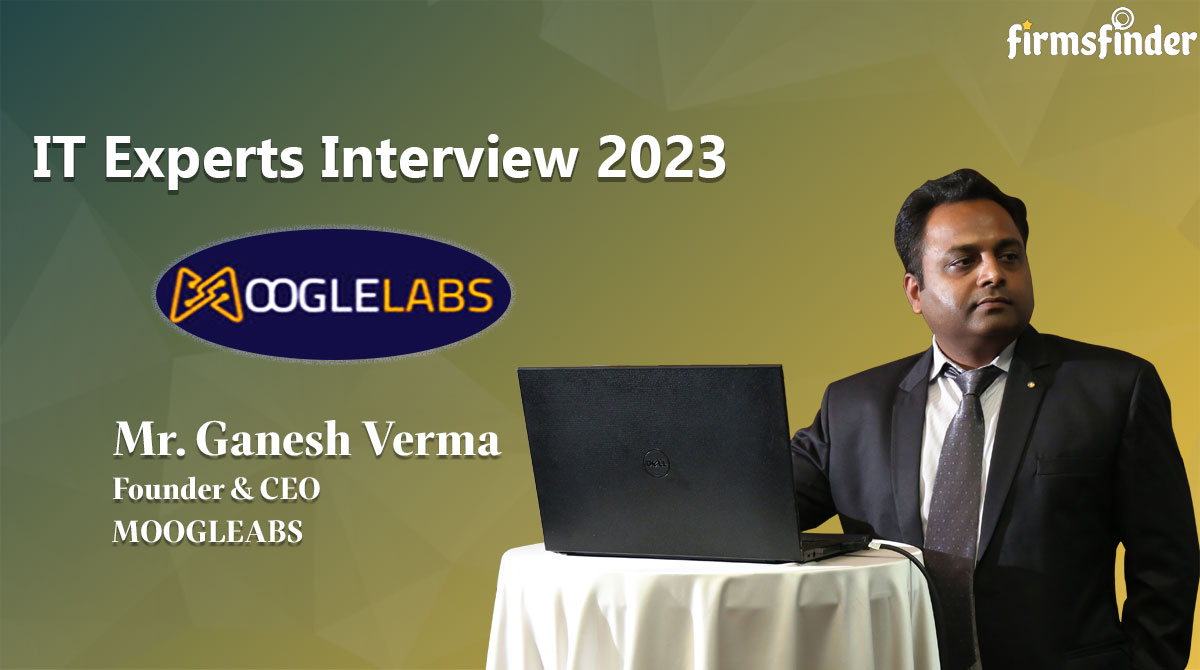 Mr. Ganesh Verma – CEO Mooglelabs
Here is the dictatorial interview of Mr. Ganesh Verma CEO, Mooglelabs only on FirmsFinder. In this interview, he shared his thoughts on upcoming technology trends for 2021 and many more things.
Let's check his success story and views.
Tell us in brief about your company and the leadership.
MoogleLabs is a for-profit startup that primarily focuses on emerging technologies like AI/ML, DevOps, Data Science, Metaverse, Web 3.0, Blockchain, and more. With so many businesses offering traditional technologies-based services, including development, design, and more, we wanted to address a niche through the experts in the field.
MoogleLabs is a team of close to 60 people, with both young blood and experienced team members, to create innovative solutions for all businesses, big and small, that come to us. With me, Ganesh Verma, serving the CEO role, we have created separate teams under vertical heads for different technologies to offer the best services for every client.
What engagement models do you offer How should a client choose
MoogleLabs offers four distinct engagement models for clients. The Fixed-price Model: We give a flat rate for the complete project, along with the set deadline. It is the perfect model for companies that want the entire project done quickly. The Time Model: In this, the price will depend on the time spent on the project. The model works well for companies that are asking for more flexibility in terms of the project.
The Service Level Agreement (SLA)/ Milestone-Based model: Here, we provide an SLA and provide services while adhering to the contract. It is a milestone-based model ideal for clients with various small milestones.
IT Staff Augmentation: If you already have a team for the job, and are looking for an expert to help your team improve, then IT staff augmentation is the right fit for you. It helps scale the business when needed and cuts the cost that comes with hiring full-time employees. However, we are not limited by these engagement models. Frankly, as a company, we aim to facilitate
innovation for our clients in every way possible.
Please describe the operational structure of your company- from the moment a client walks in to the product deployment.
When it comes to the operations structure of the company, we have created a standardized routine to ensure the highest level of service for every client. As convergent thinkers and puzzle solvers, we ask our prospective clients about the problem they are trying to address through our services.
It includes talking about current operations, problems, and possible solutions. Then, our team brainstorms ideas that are discussed with the client. After making the decision on the best solution, we decide on the languages to use for the job. Then, it is time to create a roadmap (shared and approved by the client) and implement it.
We validate the process frequently and test the work thoroughly before providing the ultimate deliverable to the clients. And post-delivery services are also available for clients who need our assistance later.
What is your outlook for 2023
We are having an excellent year and aim to continue the streak in the future. As for the technologies that I believe will do wonders in the next year, Quantum Computing has a lot of potential. Though, no biases here! I believe that 2023 is going to be an excellent year for technological advancements in all sectors, and I can't wait for you to see the projects we bring to life in the next year.
Overall, it is an excellent year that we, here at MoogleLabs, are looking forward to. Also, with the current economic conditions, I personally believe that it is the perfect time to experiment with our capabilities and offer unique products and services to our clientele. It is the ideal environment to push our boundaries, especially in terms of sustainable energy, and nothing else intrigues me as much.
Other than technical expertise, what traits you believe are essential for any app development firm to succeed in this rapidly evolving industry
Well, the most crucial trait of any successful app development firm is its willingness and efforts to think out of the box. Much like people, and industries, every technical firm needs to evolve with time if it does not want to become dust. Therefore, the only companies that succeed are the ones that are willing to innovate, improve, scale, and dispense efforts to stay in the game.
Any particular technology or industry you would be targeting How do you plan to prepare your workforce for the upcoming technology upgrade?
The two industries that are booming currently are Blockchain technology and AI. DevOps is another technology that is picking pace, but it still only has a niche audience.
We are always happy to take on new challenges, and our primary aim is to invest in our employee's overall ability not just to cope but conquer many of emerging technology.
As an industry-leaders and tech enthusiast, I aim to prepare my workforce for every technological upgrade our industry experiences. And they are definitely up for the challenge.
With technologies like Machine Learning and Artificial Intelligence (AI) that can be used for both web applications and mobile apps, how do you envision the development methodology to be in the future
The world is becoming faster as we speak. So, the inclusion of AI and ML in web and mobile app development will become mandatory. For one, clients and innovators are finding faster ways to create apps for quick and error-free deployment. AI and ML are the tools that are going to bring us closer to that final goal.
What do you, as a leader, prioritize: – the vertical expansion of your business or the horizontal
expansion of your expertise and services? How do you balance both
As a startup, we are currently focusing on horizontal expansion and adding more expertise and services to our operations. Also, as a company that hires employees who are innovative thinkers, they do not require much oversight. Our managers are here to ensure proper conversations with clients, helping the team only when they need support and upgrading their skills so that they can disperse the knowledge to others in the team. It is a mammoth task that requires inquisitive minds, but we have curated a talented and competent team for the job.
Of course, if there is a need for vertical expansion, hopefully soon, we would be more than happy to make adjustments and ensure that all our operations needs are met.
How would you describe your growth trajectory in 2021 Any particular achievement  Any
disappointment
2021 has been an excellent year for MoogleLabs. We have invested a lot of time in creating innovative solutions, reached our financial goals already, and received several accolades for our efforts. Overall, there is nothing to complain about as of yet. As a company born in the time of the pandemic, we were equipped for the pandemic and the various changes that came with it. In the coming year, we aim to take the trajectory forward, work on providing even better services, collect more awards, and create more innovative products that turn a lot of heads.
How do you assess the role of research agencies like FirmsFinder in bridging the gap between clients and service providers
I believe that agencies like IT Firms have a significant role in pushing startups like ours in front of clientele and giving them a fair understanding of what services to expect from what company. Contribution of research agencies in helping every client find the right service provider and vice versa is generally the reason for several successful collaborations.
Mooglelabs
https://www.mooglelabs.com/
info@mooglelabs.com