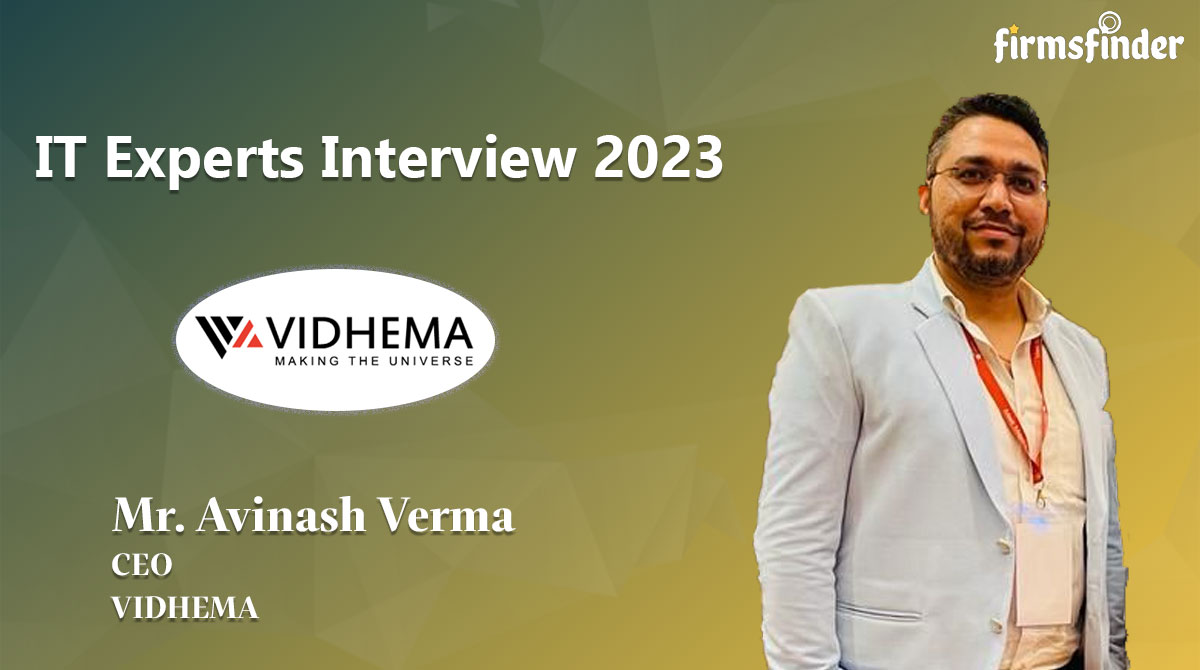 Mr. Avinash Verma – CEO, Vidhema Technologies
Here is the dictatorial interview of  Mr. Avinash Verma – CEO, Vidhema Technologies only on FirmsFinder. In this interview, he shared his thoughts on upcoming technology trends for 2023 and many more things.
Let's check his success story and views.
1. Tell us in brief about your company and its leadership.
Vidhema Technologies is a creative & focused product development and services company with a curious and passionate team of software Architects, Engineers and business analysts. We are in this business from last 6 years. We are a fun, talented, team who loves working together and we have a passion for building remarkable software that people love.
We are a software development company having primary focus on providing promising software solutions through our vast and varied expertise across different IT domains. By implementing high quality software solutions we aim at helping you to grow your business.
2. What engagement models do you offer  How should a client choose

We offer different engagement models. To decide which model to implement, we take into consideration clients' business and their expectations of the web/app solution. The least advised and asked for engagement model is the "Fixed Price Model." Obviously, most businesses want flexibility and scalability and add to it who would pay for the extra features. "Time and material model" enters the picture if a client wants a flexible solution. Other than flexibility the other feature that makes this model unique is iteration. Another is the "Dedicated Team Model" that covers the cons of the above two types.
Clients can always find the best model according to their needs and we are good to go.

3. Please describe the operational structure of your company- from the moment a client walks in, to the product deployment.
We treat clients' businesses like ours and that is our motto. The team ensures there is no chance of error in the services and products delivered. To make sure the client is heard each time he reaches us, we have a strong support team to get things done. Here's a brief on how we work with our clients.
Understanding the Needs: The team communicates with the clients clearly to understand the business requirements.

Regular Sprints: With regular sprint plans we ensure to execute and update the project details.

Agile Model: We deliver the functionalities one at a time so that it is easier for the development team and the clients to be on the same page.

Documentation: We ensure to document all the aspects of the process and the solution to affirm the client gets into minute details.

Quality Check: We make it a point that each code is checked several times before being deployed. Perfection in the solution is the motto.
And, we do not leave our customers once the web solution is delivered. After deployment support makes it easier for the clients to understand and get the most of the solutions.
4. What is your outlook for 2023
From the market perspective, we think that it will become more and more competitive and the task of any company is to find its niche and establish itself as a leader there.
As for our company, we will follow our strategy further. We plan to introduce a few new services but we are not ready to tell the world about them yet.

5. Other than technical expertise, what traits do you believe are essential for any app development firm to succeed in this rapidly evolving industry
The App and Web development market has become very competitive lately. Increased competition also has affected the margin and hence a bottom line. However, we as a business should be ready to see this as an opportunity to become efficient with our operations and effective with our marketing dollars spent. There are a couple of ways to position in this rapidly evolving industry
Real Value:  We need to be ready to go above and beyond and deliver a real value to the customers. This is not new but now it is more important than ever before.
Value added benefits: 

Offering more value-added benefits to each deal is generally going to be rewarded in a long run.

Innovation:

Being innovative with approach, technologies and methodologies with each project that can aid customers achieve their business goals should be a norm now.

Focus Group:

One of the things I wanted to mention here, where I see a real difference, is to have a master class of your own. It is nothing but a group of mentors who can help you stay focused, be more competitive and guide you in difficult times. It will take some leg work for sure to come up with, but I recommend this to anyone who is willing to try and do something new. This will go a long way.
6. Any particular technology or industry you would be targeting? How do you plan to prepare your workforce for the upcoming technology upgrade?
Currently, we are focusing on developing mobile and web applications and emerging technologies such as artificial intelligence and blockchain.
We are definitely planning to expand our workforce and hire more data related folks, especially data engineers. We are expecting to have more hires who can work with Machine Learning and data analytics.
We also want to either train existing staff OR hire a few resources for support flutter and DevOps given both of these skill sets are more in demand.

7. With technologies like Machine Learning and Artificial Intelligence (AI) that can be used for both web applications and mobile apps, how do you envision the development methodology to be in the future
With technology unfolding a new page every day, the future seems to be promising. We expect the development process to become simpler, better and easier.  We have seen search as per the instruction, images and now as per mood. To be honest, we are great patriots of technology and am always excited to explore the hidden nooks of technology.  Who knows the future has easy coding solutions where you ask the system code for you and you have the solution. !
Who Knows What the Future Has in Store!
8. What do you as a leader prioritize: – the vertical expansion of your business or the horizontal expansion of your expertise and services? How do you balance both?
Our strategy is to gain and build our expertise in specific areas. At the moment we are mostly focused on the fintech and healthcare industries. Along with that, we have great experience in creating products for the social, dating, e-commerce, and on-demand delivery domains, and take on such projects with pleasure.
I believe the biggest achievement for us as an organization is the long term business relationships that we have made. Other than that a part of our clientele is through references and recommendations which reflects the trust of other domains in our business.
9. How would you describe your growth trajectory in 2023 Any particular achievement? Any disappointment?

We value individual growth and organizational growth over simply competing in the business world.  In recent years, the approach has helped us achieve exponential growth and deliver some great results. We have launched in the market our Employee Benefits Software, which is an in-house Saas product. We have marketed it in the international markets. Currently, 18+ organizations are using it and appreciate the features and ease of understanding. Last year, we achieved a milestone, where 46% of the clientele reached us through recommendation. The figure itself is proof of our dedication and customer friendly services. Other than these the rapid growth in the number of organizations associated with us, for different services has risen exponentially.  Our transition to the digital domain was smooth and has only added to the value of our services.


10. How do you assess the role of research agencies like FirmFinders in bridging the gap between clients and service providers
Agencies like FirmFinders have made it easier for clients to reach the right business without many troubles. Not just the clients are at the advantage, even organizations like ours get to eat the fruit. We can showcase our skills, and understand via reviews where we are lacking. Vidhema feels great to partner with such agencies that are taking the clients to the right organizations.