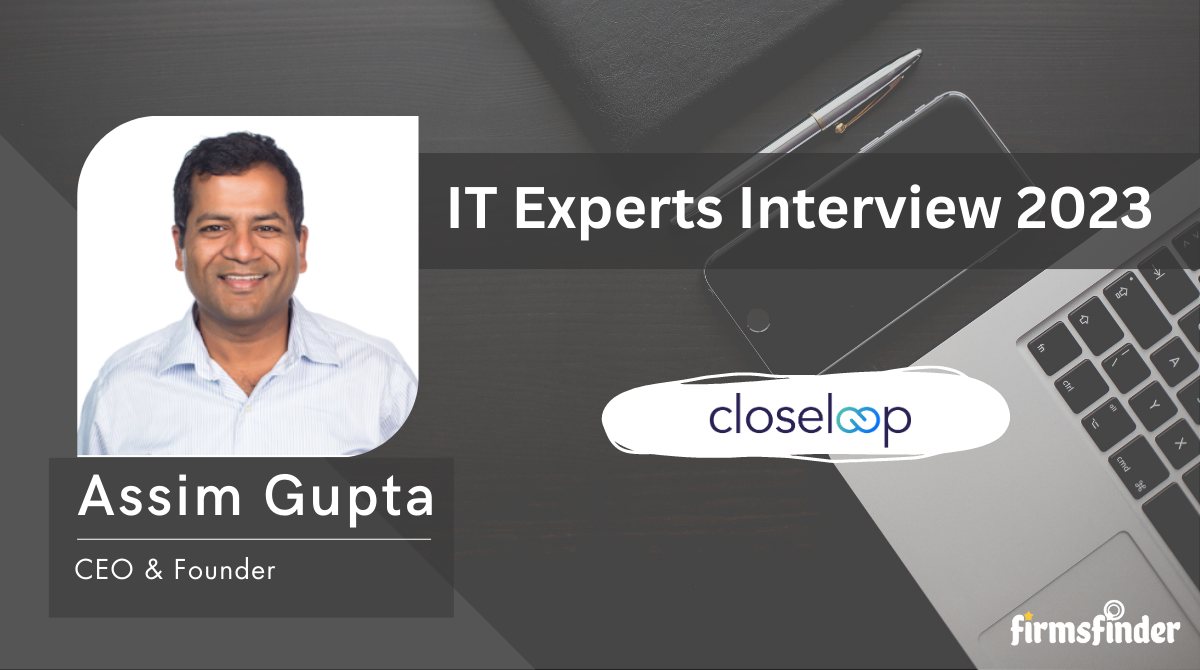 Mr. Assim Gupta – CEO, Closeloop
Here is the dictatorial interview of Mr. Assim Gupta – CEO, Closeloop only on FirmsFinder. In this interview, he shared his thoughts on upcoming technology trends for 2023 and many more things.
Let's check his success story and views.
1. Tell us in brief about your company and its leadership.
Closeloop Technologies is a software development and consulting firm based in California that has been in business for 12+ years. Our primary mission is to help organizations worldwide run more efficiently by providing software consulting services to help them streamline their operations. We develop mobile and web apps and custom software solutions to assist our clients in growing by utilizing cutting-edge technology and tools tailored to their vision and business requirements.
Hello, I am Assim, the CEO of Closeloop Technologies. I am a Serial Entrepreneur and Investor with extensive experience working with industry giants like Facebook, Oracle, Google, Microsoft, VMWare, SGI, and Essar. With my knowledge and expertise, I founded Closeloop to digitally empower businesses worldwide, allowing them to function more efficiently and grow by leaps and bounds.
2. What engagement models do you offer How should a client choose
Closeloop Technologies offers various engagement models to cater to the diverse needs of its clients. Each model has unique benefits, and the client can choose one depending on their specific needs, budget, and project requirements.
The Fixed Price model is appropriate for clients that have a clear grasp of their goals and want a fixed price for the project. In contrast, the Time and Material model is appropriate for clients with a flexible budget and want more control over the project's direction and scope. The Dedicated Team model best suits clients with long-term projects or who want ongoing assistance. The Hybrid Model combines the benefits of the Fixed Price and Time and Material models to give a customized solution that matches the client's demands.
3. Please describe the operational structure of your company- from the moment a client walks in, to the product deployment.
When a client initially approaches us, we start by analyzing their objectives and requirements. This includes understanding their business processes, identifying problem areas, and deciding how our solutions may provide value to their operations. We then collaborate with the customer to determine the project's scope and create a plan defining the objectives, timeframe, and budget.
Once we completely understand the client's needs, we begin the product development process with our experienced team, which includes software engineers, subject-matter specialists, and project managers.
We use various communication and project management technologies throughout the development process to keep the client informed and engaged. This involves regular progress reports, product demos, and frequent check-ins to ensure we meet the client's expectations.
When the product is finished, we collaborate with the client to install it in their environment and set it up to work seamlessly with their existing system.
4. What is your outlook for 2023
I am quite optimistic about 2023 as we are constantly working on evolving and adapting to the changing landscapes of the industry. While there will always be challenges, we are certain that we have the skills, knowledge, and drive to overcome them.
In the future, we intend to focus on increasing our solutions to satisfy our clients' changing needs. This involves investing in emerging technologies like artificial intelligence, machine learning, and blockchain to create cutting-edge solutions that can assist our clients in achieving their objectives.
5. Other than technical expertise, what traits do you believe are essential for any app development firm to succeed in this rapidly evolving industry
I believe that in addition to technical expertise, there are several key traits that any successful mobile app development company must possess. Teams must be able to quickly adapt to changes. Continuous learning to improve as per the market standards. And effective project management, which includes meticulous planning, organization, and execution to fulfill client and end-user needs while completing projects on schedule and within budget. Finally, a customer-centric strategy to comprehend end-user needs and create apps that offer a smooth user experience.
6. Any particular technology or industry you would be targeting How do you plan to prepare your workforce for the upcoming technology upgrade?
Currently, we are focusing on developing mobile and web applications and emerging technologies such as artificial intelligence and blockchain.
To remain competitive in this ever-evolving technology world, I think it is important to invest in the professional development of our workforce. We prioritize continual training and development options, such as workshops, seminars, online courses, and attending conferences, to prepare our team for the future technology upgrade.
We also put a lot of emphasis on teamwork and knowledge-sharing. Our employees collaborate in cross-functional teams with project managers, designers, and developers to provide them exposure to many facets of the development process and allow them to learn from one another.
7. With technologies like Machine Learning and Artificial Intelligence (AI) that can be used for both web applications and mobile apps, how do you envision the development methodology to be in the future
AI and Machine Learning are expected to become increasingly significant in web and mobile app development, resulting in changes in development methods. Personalization and user-centric design may be prioritized, and development methods will become more agile and iterative. Developers must be able to swiftly develop and test new ideas and pivot as needed.
Furthermore, Closeloop Technologies is committed to keeping up with these changes and remaining at the forefront of industry trends in order to give our clients the best results.
8. What do you as a leader prioritize: – the vertical expansion of your business or the horizontal expansion of your expertise and services How do you balance both
We understand the need to seek new opportunities for development and expansion, and we regularly evaluate prospective paths for vertical expansion.
Yet, I feel it is equally important to focus on horizontal expansion, which involves extending our knowledge and offerings within our existing market or industry. This entails constantly increasing the quality of our services and remaining current on industry trends and technologies.
To maintain a balance in both, we prioritize continuous employee training and development to ensure they have the skills and expertise to provide our clients high-quality services.
9. How would you describe your growth trajectory in 2020 Any particular achievement Any disappointment?
Fortunately, despite the challenges that the COVID-19 pandemic brought, we could continue a favorable growth trajectory in 2020. Our team worked tirelessly to adjust to the new normal and meet the demands of our clients during these trying times.
One notable accomplishment is the successful adoption of a remote work approach. By embracing technology and creative communication methods, we could sustain productivity and collaboration throughout our team and with our clients.
Of course, there were disappointments along the way as well. Due to the pandemic's influence on our client's businesses, we had to change our timetables and expectations for certain projects. Still, as a team, we maintained a strong understanding with our team members and overcame those challenges.
10. How do you assess the role of research agencies like FirmsFinder in bridging the gap between clients and service providers
I believe that research firms like FirmsFinder play an important role in the tech industry, assisting clients to utilize research to make educated judgments about service providers.
Furthermore, research agencies provide input to service providers, allowing them to improve their offers. As an industry leader, it is critical to collaborate closely with research firms like FirmsFinder to stay current with trends and best practices, allowing us to deliver superior service to our clients.
Closeloop
 https://www.closeloop.com/
sales@closeloop.com