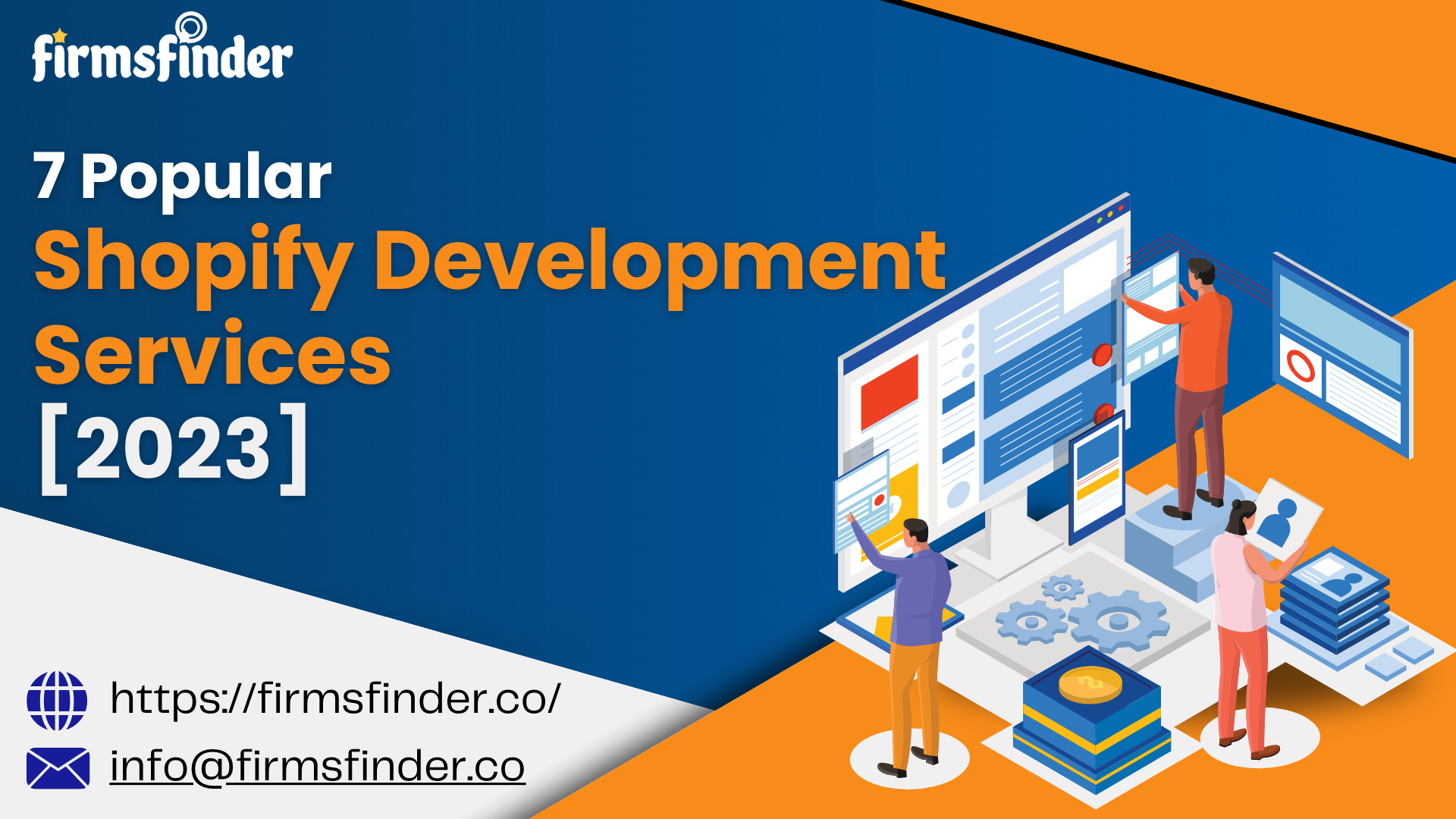 7 Popular Shopify Development Services [2023]
In the fast-paced world of e-commerce, having a strong online presence is critical for businesses to prosper. Shopify, a well-known e-commerce platform, has emerged as a formidable tool for companies wishing to set up and manage their online storefronts. The demand for bespoke Shopify solutions has increased as organizations continue to evolve. This post will look at the seven most popular Shopify development services that will shape the e-commerce landscape in 2023. 
Understanding the Significance of Shopify Development Services
Shopify, an easy-to-use and feature-rich e-commerce platform, enables businesses to easily develop and manage online storefronts. However, realizing Shopify's full potential necessitates a thorough understanding of its features and capabilities. Here's where Shopify development services come in. These services include a variety of solutions designed to enhance, customize, and optimism Shopify stores to meet the specific needs of businesses in a variety of industries.
1. Shopify Store Setup and Customization
The creation and customization of an online store is the foundation of its success. Shopify development services specialize in establishing visually beautiful and effective stores that are consistent with a company's branding and goals. These services ensure that the online store retains the soul of the business and delivers an amazing customer experience, from picking the proper theme to customizing layouts, colours, and fonts.
2. Theme and Template Development
Shopify has a large selection of themes and layouts, but businesses typically want a unique and personalized design. Shopify development company specialize in creating custom themes and templates that reflect the brand's identity while being responsive and user-friendly across devices.
3. App Integration
Shopify's app ecosystem enables businesses to extend the functionality of their store with a number of apps. However, selecting the correct apps and integrating them seamlessly can be a difficult undertaking. Shopify development services assist in discovering and integrating the most relevant apps, ensuring that the store runs smoothly and provides clients with the needed functionality.
4. E-commerce SEO Optimization
Search engine visibility is critical for delivering organic traffic to an online store. Shopify development services include SEO optimization's, such as keyword research, on-page optimizations', and technological SEO upgrades, to guarantee that the store performs highly on search engine results pages and attracts potential customers.
5. Payment Gateway Integration
Converting visitors into consumers requires a smooth and safe payment process. Shopify development services enable the integration of different payment gateways, allowing users to select their chosen payment method while assuring secure and quick transactions.
6. Performance Optimization
Websites that take too long to load might result in high bounce rates and lost sales chances. Shopify development services are focused on optimizing's store performance by reducing loading times, optimizing's pictures, and streamlining code, resulting in a more delightful shopping experience for customers.
7. Ongoing Maintenance and Support
The world of e-commerce is always changing, and running an online company demands ongoing attention. Shopify development services include continuing maintenance and support, such as updates, security upgrades, and troubleshooting, to guarantee that the store is functioning and up to date.
Conclusion
As the e-commerce business grows, the function of Shopify development services becomes increasingly important. These services enable businesses to fully utilize the Shopify platform by establishing online stores that captivate customers and increase sales. Shopify development services offer a full range of solutions tailored to the particular demands of each business, from shop setup and customization to performance optimization's and continuous support.
To remain competitive and provide excellent online shopping experiences in the ever-changing digital landscape of 2023, businesses must embrace the potential of Shopify development services. Businesses can transform their Shopify stores into vibrant e-commerce hubs that resonate with customers and pave the road for long-term success with the proper combination of skill, creativity, and technical proficiency.

FAQs
1.
What are the trends in Shopify 2023?
For those using technology on the Shopify platform, the development trends of 2023 will be all about providing better experiences: a better developer experience, a better merchant experience, and a better customer experience. The development trends of 2023 will be all about providing better experiences.

2.
Is Shopify good for developers?
Suitable for businesses of all sizes, Shopify makes it easy for you to sell goods online. You can go to the website and build your ECommerce Store, and Shopify will host it for you. Although working with the store is easy, the development of the store is not. That is where a Shopify Developer saves the day for you.

3.
Is Shopify development in demand?
Shopify is used by millions of businesses around the world, and many of them require customized features and functionality to meet their unique needs. Shopify app developers are in high demand to develop and maintain these apps.
Author: Firms Finder
Sep 26 2023