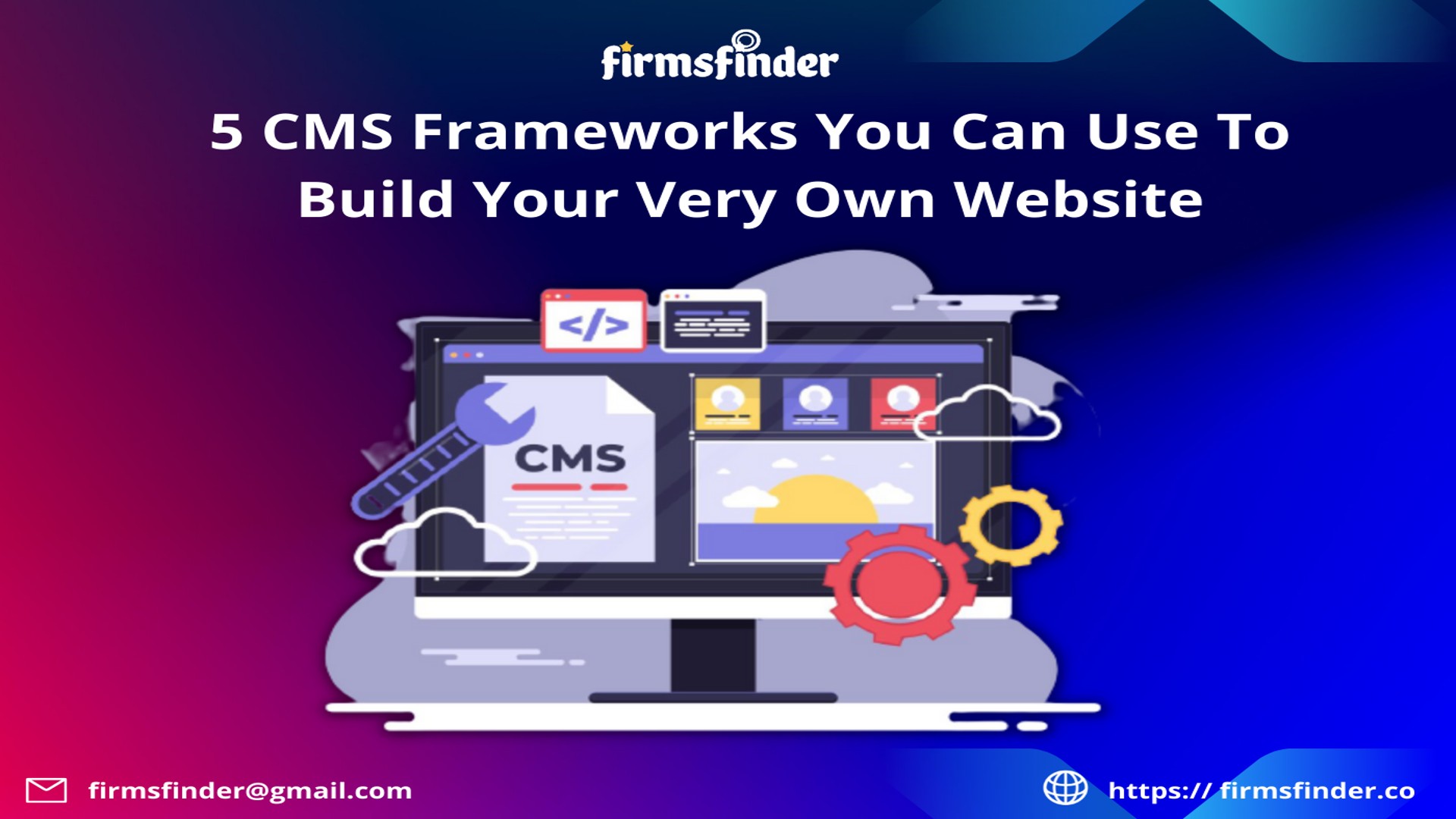 5 CMS Frameworks You Can Use To Build Your Very Own Website
Are you looking for the best CMS to build your website? Well, we will give you the top 5 list of Content Management System or CMS frameworks. It will help you create a functional website without needing to develop every page from scratch using code.
Whatsoever, different CMS software has different advantages and disadvantages, so according to your budget and needs you can choose the tool that suits best for your business.
Before we go any further, first let's understand about CMS or content management system.
What is a CMS?
A content management system or CMS as the name suggests that it helps you manage your website's content in a systematic way. Instead of working with a code to add content to your website, the CMS lets you work with an easy-to-use editor tool.
After using that, when you click on the publish button to publish the content, the CMS will properly display the piece of content to visitors according to your choices and preferences. A CMS also manages everything on the frontend of your website. For instance, if you publish a blog post the CMS will automatically put on view it at the top of your blog page and add a timestamp. A CMS is more flexible than just a blogging platform. You might think of a CMS as a blogging platform for one specific type of content that is blog posts, but CMS also can help you organize any kind of content virtually.
For instance, the content in your CMS could be:
Static pages

Blog posts

Memberships

eCommerce products

Forum posts

Private course content
A good kind of CMS platform can help you manage as many as different types of content as you want.
5 Best CMS Frameworks
It???s now the time to get the lists of CMS options that are good for any brand:
1. WordPress:
WordPress is counted as one of the most popular CMS's by far. It is absolutely free of cost. Initially, WordPress started as a blogging platform and later it has been morphed into a full CMS that you can use to build any sort of website.
Here are some of the reasons that will showcases the WordPress popularity:
It is a free and open source CMS platform.
With the help of the WooCommerce extension, you can make eCommerce stores easily.
You can easily find thousands of WordPress themes to control your website's appearance.
You can have access to the 55,000+ free plugins to extend your website's features.
2. Drupal:
Drupal is another popular open source CMS platform that appears to be a top choice for users.
With its flexible taxonomy system, Drupal tops when it comes to managing websites with large content. It also comprises a built-in user access system that gives you plenty of control of what registered users can do inside the CMS.
Just like WordPress, you can control how your website might look using themes and extend Drupal's functionality with the help of modules.
3. Joomla:
Joomla is the third entrant in the list of CMS frameworks after WordPress and Drupal. It is also a famous platform to work with. Joomla is a free and open source platform to use.
Joomla comes with large marketplaces for templates and extensions, which helps you create a website that matches your needs.
Also, Joomla offers a nice middle-ground between Drupal and WordPress.
4. Magento:
Magento is commonly used for eCommerce stores. It is an open source CMS platform having flexible and robust security features. But also, it is very accessible for non-technical users. You will also require some technical knowledge to go with the Magento process to set it up. Or else, you could hire someone of that skill and knowledge. Either you can use the open source software for free or you can pay Magento to set up and manage your store for you.
5. Kentico:
Kentico is an enterprise-focused CMS that offers two dissimilar Content Management System products. Let's see to the points for better understanding:
Kontent:
A headless cloud-based CMS that helps you maintain your content and deliver it anywhere through an API.
Xperience:
A cloud-based or on-premises platform that wraps a CMS and digital marketing tools into one.
Kentico CMS has a limited period of free exposure for its Kontent platform, but it will get costly if you need the paid options. As Kentico Kontant is a headless CMS, it requires some technical understanding to create the front-end of your website.
Conclusion:
Hope these top 5 CMS framework platforms will help you make the right choice for your business. Thank you for your time to read the blog! Firmsfinder is a website and mobile app development company, offering quality services in town. For more information follow us or visit our website.
Author: Firms Finder
Oct 2 2023