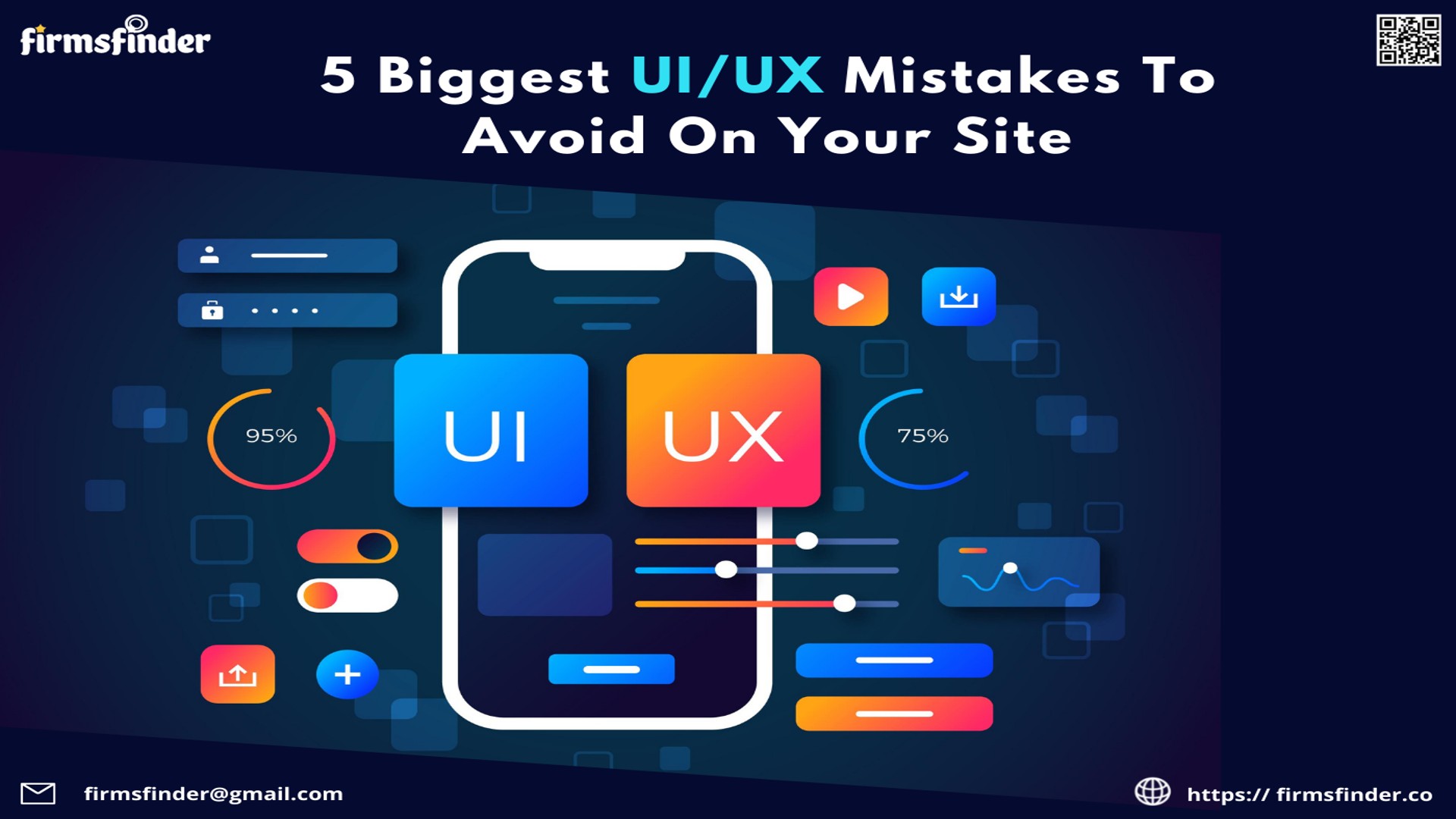 5 Biggest UI/UX Mistakes To Avoid On Your Site
The UX (User Experience) and UI (User Interface) are necessary parts of the modern business sphere. The experience your targeted audience gets while browsing your website (ideally) to make a purchase, creates impressions. Your website should regulate the users smoothly and flexibly along the buyer's journey.
Your website interface should be like where it engages the users through meaningful interactions. If your website falls short to deliver the expected experience, you might lose your users to your competitors.
Let's discuss some of the best ways to decrease your bounce rate and help you boost conversions. Here are five ways that will help you, so let's get started.
1. Prioritizing Aesthetics Over Functionality:
The first and foremost thing to keep in mind is that you should strike an impeccable balance between functionality and creativity. There has been a lot of saying about prioritizing your website with genuine photos, interactive design, and creative design elements. While these creative aspects are essential for UX, they should not supersede the functionality of your website.
On the other hand, if your website doesn't have creative features and only functionality, this will make users go away. Only functionality with no compelling effects or sparks will make your brand'
s website easily forgettable. Users want creativity but at the same time, they also want to navigate through your website easily.
2. Ignoring Responsive Design:
Responsive design is not a trend within the broader field of web design. However, we still encounter websites that do not fully adopt a proper way that makes the best use out of the available screen real estate. That is why responsive web design is an important part of this list.
Some key highlights of responsive design are:
It creates an optimal UX across various devices.
Responsive web design enables your website to easily and quickly adapt and change according to the device used.
Responsive design also grants a user to enjoy a seamless experience even while switching between devices.
So, without any further ado, redesign your website and prioritize responsiveness for the optimal user experience.
3. Do Not Forget The Content:
As they say, Content is the King.
The relevant and understandable content which provides credible, reliable information online to the users is still one way to go. Never underestimate the importance of your content. The website requires high-quality and authoritative content from experts for optimal UX.
The fundamental points to follow while creating website content.
Use keywords across all your content (but do not do keyword stuffing)
Keep your spelling and grammar correct
Pay attention to quality
Create landing pages to boost conversions
Guide the users through the sales funnel with the correct content
Post new blogs frequently
Do not forget to revise the old content to keep it fresh and relevant
4. Creating Website For Search Engine, Not People:
As the online competition is increasing day by day, it is no surprise that owners of the website are always obsessing over how they look to rank for specific keywords. But the main concern should be, People. Google and other search engines make the search experience as fruitful and seamless as possible for users. There should be some guidelines to be established the website must follow to optimize the user experience.
While it is also essential to design your website with keeping SEO in mind. In the end, your ultimate goal should be to provide an exceptional User Experience.
5. Going After Every Bandwagon:
Trends always come and go. Just when you think that you have achieved something, some new trend might come up. Similarly, when you think that you have overpowered UX, a new top trends list will drop and motivate you to rethink your strategy. As the owner of the website, you need to take every upcoming trend with full potential. Try and make proper strategies with the new trends, do not just blindly follow the trend because everyone else will be doing that.
Make sure you always search for the right trend and make a strategy accordingly. This way you could save a lot of time and thus will be proved as a right move for your business and website.
Conclusion:
We hope these five points will help you in developing your website more easily and therefore make your business stand out among the competition. Start generating traffic and boosting conversions by reading these amazing points.
Firmsfinder is a listing website that helps your business in getting leads and conversions. Thank you for reading our blog!
Author: Firms Finder
Oct 2 2023