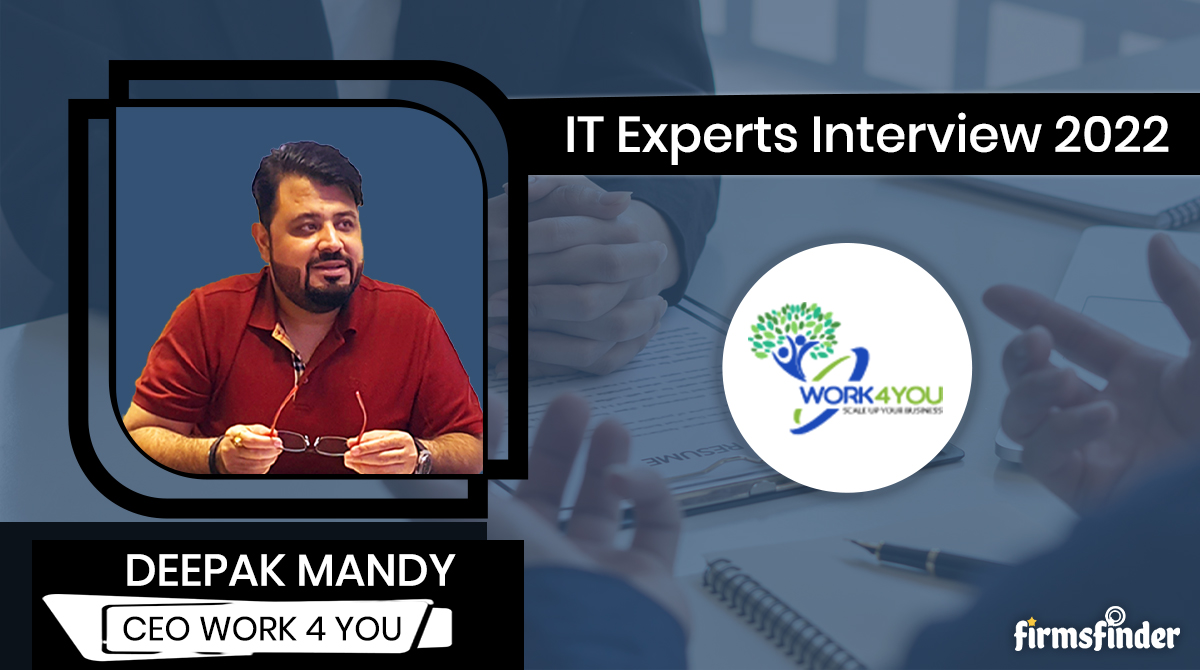 Mr. Deepak Mandy – CEO Work4You
Here is the dictatorial interview of Deepak Mandy -CEO, WORK 4 YOU only on FirmsFinder. In this interview, he shared his thoughts on upcoming technology trends for 2022 and many more things.
Let's check his success story and views.
1.Tell us in brief about your company and the leadership.
Work4You offers a comprehensive range of services to a virtual assistant, BPO &KPO, back-office support, digital marketing, web design & development and bookkeeping. We are the global leaders in offering next-gen virtual consulting and digital marketing for business development. With more than one decade in digital marketing, we have created a strong clientele all across the globe. Many leading business enterprises have taken the leveraged of our bouquet of customized services to meet all their requirements. At Work4You our mission is to deliver outstanding solutions that bring about a transformation in the virtual assistant and eventually modernize the digital marketing process while expanding the horizon to new markets and demographics.
2.What engagement models do you offer How should a client choose
We mainly cater for virtual assistance and provide services remotely and two main engagement models we offer to our clients, like bookkeeping and complete insight into digital marketing. We work as a service provider for our clients who need support in maintaining records and balance between their clients further. We are associated with the development of many established businesses and have been a part of their success throughout.
Our clients can choose the most suitable model that saves their time and money together. They will not require any particular office to accommodate the staff because all tasks will be taken care of virtually and complete assistance will be given anytime they want.
3. Please describe the operational structure of your company- from the moment a client walks in, to the product deployment.
At Work4You, we follow the trend of providing services virtually to the clients like taking appointments, maintaining records of the account, creating virtual files and documents. We aim to offer such services which assist in enhancing the productivity of the business where we deal with administrative tasks, we leave businessmen to focus on other core aspects of the business. We take a load of official roles and responsibilities, whereas the owner is left with implementing his creative ideas to take his business into new directions. Once this collaboration works smoothly, the clients can achieve impeccable results.
4. What is your outlook for 2022
Just as corona revised its strategies thrice, we also revise our strategies every year to provide with the best possible services to our clients. Our vision is to release our clients from all the mundane and monotonous tasks and focus on the upper management with all the zeal. Although every operation in any organization hold equal importance but we are looking forward to release our clients completely from the micro level management and only focus on the Top management. In 2022 we will expand our network even more and provide all the services that will help the organizations catered grow organically.
5. Other than technical expertise, what traits do you believe are essential for any app development firm to succeed in this rapidly evolving industry?
Definitely understanding the psychology of the clients. What are their goals, what are the hindrances they come across and what solutions can best fit their situation. After understanding their needs, goals, psychology and humanistic values, technical expertise comes into the picture. The team of experts strategizes the major and baby steps to achieve the set goals and reach out to the target.
6. Any particular technology or industry you would be targeting How do you plan to prepare your workforce for the upcoming technology upgrade?
Any business can excel any day and any renowned business can stop doing business too. So it is in our hands to work with all our might to make our clients flourish in whatever industry they are into. Thus there is no specific industry we are targeting but definitely helping our brand to flourish in their respective industries. As far as preparing our workforce is concerned, we plan regular training sessions and upgrade our tools regularly for our team to catch the pace of the new strategies and technologies in the market.
7. With technologies like Machine Learning and Artificial Intelligence (AI) that can be used for both web applications and mobile apps, how do you envision the development methodology to be in the future?
I believe that it will be very competitive in the coming future. But it will also close rooms for creativity therefore personalized approach to things and providing a pinch of traditional services is essential to stand out of the box. It will lose the conventional approach and the essence of organic expansion and innovation may get swayed. Thus I believe that though Machine Learning and Artificial Intelligence are the new smart kids in the school but over dependency on them and totally ignoring the humanistic approach may be a hindrance in future.
8. What do you as a leader prioritize:  the vertical expansion of your business or the horizontal expansion of your expertise and services? How do you balance both?
Horizontal and vertical expansion both are very important aspects for any organization. We make sure to stay in constant touch with our clients to ensure that better catering of revised services takes place. Doing so increases even better return on investment. We also ensure that regular team training meetings are hold. In our meetings, the top management adhere to challenges of the team and provide strategies to improve the performance. Thus the vertical structure is taken care of in this manner. For Horizontal growth, over the past few years we have expanded our networks in many countries and we are establishing our roots worldwide. So by working on our global presence, we are strengthening our Horizontal expansion as well.
9. How would you describe your growth trajectory in 2021? Any particular achievement? Any disappointment?
Year 2020 and 2021 have been very competitive. Unfortunately many businesses had to shutdown and many organizations ended the contracts with their employees. But since we provide virtual assistance and services online, it was not difficult for adjust to adjust in the era of online revolution. Businesses could trust us for the online allocation of services as they did not have to train us and we were proficiently managing that. As far as disadvantages are concerned then there were some businesses we were about to cater but they had to drop the plans.
10. How do you assess the role of research agencies like FirmsFinder in bridging the gap between clients and service providers?
FirmsFinder provide a platform to entrepreneurs to share their concerns and the grounds where business owners and clients can connect. Thus when the clients are able to share their concerns with the service providers the gap between the two party vanishes.